There are things you can do to avoid foreclosure:
1.) Try to obtain a loan modification, reinstatement, forbearance, and-or principal reduction and have a chance to stay in your home; or
2.) Request foreclosure alternatives like a short sale, deed-in lieu of foreclosure, cash for keys, lease back, deficiency relief, and others.
Talk to a foreclosure defense attorney about your options!
Foreclosures come in two types: judicial and non-judicial.
Check the foreclosure process in your state!
A judicial foreclosure is a process wherein your lender must use the court system to seize your home. This makes foreclosure more expensive for your lender, and can typically take much longer to complete. These days, with all of the issues involving mortgage fraud and loan origination violations, having an experienced foreclosure defense attorney is essential.
A non-judicial foreclosure, on the other hand, is based on the state's statutory requirements. In this foreclosure process, lenders don't have to go through the court system to foreclose on your home. This kind of foreclosure can take as little as two months. Many non-judicial foreclosure states have recently adopted procedures that require foreclosures to be approved by a judge, in order to protect homeowners' rights. In these states, it is now even more important than ever to hire a foreclosure defense attorney.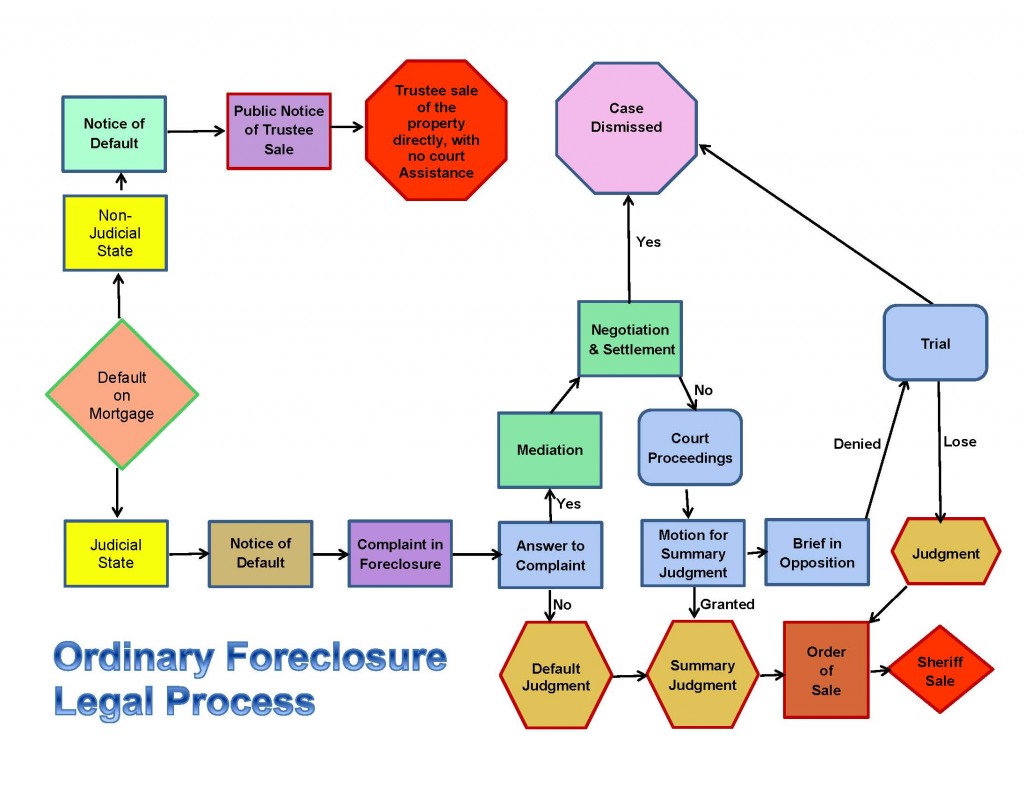 In either case, once your lender decides to foreclose, they will record a Notice of Default (NOD) at the county office where your home is located. This usually doesn't happen until you miss your third payment, but once it does, it progresses fairly quickly. Within 10 days, your lender will publish the NOD in the local newspaper and, within 30 days, you should receive the same notice by mail. Once you have received a notice of default, only a foreclosure defense attorney can effectively protect your interests.
The NOD outlines the steps you need to take to resolve the defaulted mortgage. Most lenders give you three months to bring account current. Otherwise, your lender can schedule a sale date and your house can be sold within the next month. Once your home is sold, you have ten days to leave the property.
As you can see, time is of the essence when you're facing foreclosure. This is especially true in states that have non-judicial foreclosure laws, such as California. You can see a more detailed description of the foreclosure process in the Foreclosure Timeline.
When a homeowner falls behind in their mortgage payments, they can expect lenders to react in specific ways at specific times. There are also two distinct foreclosure processes; judicial and non-judicial. While not all Lenders/Servicers use the same process, the following is a typical timeline from late payment to foreclosure:
Typical Foreclosure Timeline
Day 1-15:
The Mortgage payment is due the first of the month and usually has a 15 day grace period until the 15th of the month.
When the borrower misses a payment:
Day 16-30:
A late charge is assessed, typically 5% of the monthly payment. The company that processes the payments (called the mortgage servicer) begins to attempt to make contact with the borrower to find out why the payment is late and begins collection activities. This is one of the the best times to request assistance, such as a loan modification.
Day 31:
The new month begins and a payment is due for both the previous month and the current month. Any payment received will be applied to the previous month's payment and late fees.
Trustee Sale (Sheriff Sale):
The property is scheduled for sale in as little as 60 days or as long as 300 days from filing. Bidders are required to pay with certified funds. The opening bid starts at two thirds, or 67%, of the sheriffs appraised value of the property. The auctioneer seeks the highest bid; the successful bidder must tender payment at the sale. In some states, there is a redemption period not longer than 30 days.
IMPORTANT, PLEASE READ: This timeline represents a typical foreclosure timeline for most mortgages. Each state has its own laws and foreclosure process. For a detailed breakdown of the foreclosure process in your state, consult an experienced foreclosure defense attorney licensed to practice law in your state.