Vermont
VermontForeclosure Process
Security Instrument(s): Mortgage.
Foreclosure Type(s): Judicial.
Judicial Foreclosure: A foreclosure process in which the lender must file a lawsuit against the borrower to obtain a court order to foreclose on a Mortgage document.
Initial Public Notice: Complaint.
Estimated Foreclosure Process Period: 95+ days.
First Notice to Sale Time Period: 95+ days.
Redemption Period?: Yes, 6-12 months.
Deficiency Balance?: Yes.
* * * This information represents MRP's current understanding of the Vermont foreclosure process. For the most detailed and up to date information, your should contact your local county government.* * *
Once you have received a Notice of Default (NOD), Notice of Filed Foreclosure or Notice of Foreclosure Sale/Auction, only an experienced foreclosure attorney can effectively represent your interests. If you have received one of these notices, review some of the options below, and schedule a FREE attorney consultation today!
Mitigation Attorneys
Let a Representative of an established mortgage mitigation law firm explain your options regarding loan modification, reinstatement, forbearance, principal reduction and foreclosure alternatives like short sale, deed-in-lieu of foreclosure (DIL), cash for keys, and leaseback. When appropriate, the Representative can also schedule a NO COST mitigation attorney consultation!
► ► Speak To A Mortgage Mitigation Law Firm! ◄ ◄
► ► Complete the Mitigation Evaluation! ◄ ◄
Litigation Attorneys
Should You Sue Your Lender?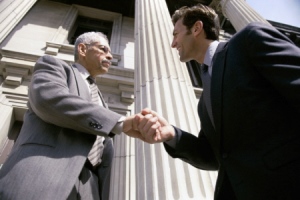 Since the exposure of widespread fraud and deceptive practices by some of America's largest banks, legislators have passed new laws giving homeowners causes of action to sue their lenders. As a result, many homeowners are hiring litigation attorneys to sue their lenders and use other aggressive legal tactics to stop the foreclosure process and resolve their troubled mortgages.
► ► Schedule A Litigation Attorney Consultation! ◄ ◄
► ► Take The Lender Litigation Test! ◄ ◄
HUD Approved HousingCounseling AgenciesLocated in Vermont
If you are behind on your mortgage, facing foreclosure or stuck in a bad loan, look for organizations offering "Mortgage Delinquency and Default Resolution Counseling" services. Organizations are listed in alphabetical order, by city.
THE FEDERAL TRADE COMMISSION (FTC) PROHIBITS ANY "NON-ATTORNEY" FROM NEGOTIATING MORTGAGE DEBT ON BEHALF OF A DISTRESSED HOMEOWNER. YOU SHOULD BE SKEPTICAL OF ANY "NON-ATTORNEY" ORGANIZATION'S ABILITY TO PROVIDE THE ASSISTANCE YOU NEED TO PREVENT FORECLOSURE!
Many of these organizations will end up recommending that you retain a foreclosure attorney. Most experienced foreclosure attorneys prefer to represent homeowners from the beginning of negotiations. Negotiating yourself or through a non-attorney third party can actually do harm, so we recommend a NO COST FORECLOSURE ATTORNEY CONSULTATION before you do anything else! You can also speed up the process by completing our ONLINE FORECLOSURE ATTORNEY EVALUATION. Your completed form is immediately routed to a foreclosure attorney licensed to practice in your state. You will receive a phone call with results and any further questions.
Agency Name
Phone, Toll-Free,
Fax Number,
Email, Website
Address
Counseling Services
CENTRAL VERMONT COMMUNITY ACTION COUNCIL, INC.
Phone: 802-728-8016
Toll-free: 800-846-9506
Fax: 802-728-4962
E-mail:

[email protected]


Website: www.cvcac.org
195 US Route 302 - Berlin
BARRE, Vermont 05641-2267
- Financial Management/Budget Counseling


- Mortgage Delinquency and Default Resolution Counseling


- Non-Delinquency Post Purchase Workshops
- Pre-purchase Counseling
- Rental Housing Counseling
- Services for Homeless Counseling
CENTRAL VERMONT COMMUNITY LAND TRUST
Phone: 802-476-4493-224
Fax: 802-479-0120
E-mail:

[email protected]

107 N. Main Street
BARRE, Vermont 05641-4156
- Fair Housing Pre-Purchase Education Workshops
- Financial Management/Budget Counseling
- Home Improvement and Rehabilitation Counseling


- Mortgage Delinquency and Default Resolution Counseling


- Pre-purchase Counseling
- Pre-purchase Homebuyer Education Workshops
- Predatory Lending Education Workshops
BENNINGTON-RUTLAND OPPORTUNITY COUNCIL, INC. (BROC)
Phone: 802-775-0878
Fax: 802-775-9949
E-mail:

[email protected]


Website: www.broc.org
332 Orchard Road
BENNINGTON, Vermont 05201-8842
- Financial Management/Budget Counseling


- Mortgage Delinquency and Default Resolution Counseling


- Non-Delinquency Post Purchase Workshops
- Rental Housing Counseling
- Services for Homeless Counseling
WINDHAM AND WINDSOR HOUSING TRUST
Phone: 802-246-2109
E-mail:

[email protected]


Website: www.asite.com
68 Birge St
Brattleboro, Vermont 05301-6421
- Financial Management/Budget Counseling


- Mortgage Delinquency and Default Resolution Counseling


- Pre-purchase Counseling
- Reverse Mortgage Counseling
CHAMPLAIN HOUSING TRUST (FORMERLY LAKE CHAMPLAIN HOUSING DEVELOPMENT CORP.)
Phone: 802-861-7331
E-mail:

[email protected]


Website: www.asite.com
88 King St
BURLINGTON, Vermont 05401-5089

- Mortgage Delinquency and Default Resolution Counseling


- Non-Delinquency Post Purchase Workshops
- Pre-purchase Counseling
- Pre-purchase Homebuyer Education Workshops
- Predatory Lending Education Workshops
CHAMPLAIN VALLEY OFFICE OF ECONOMIC OPPORTUNITY
Phone: 802-660-3455-107
Fax: 802-651-4179
E-mail:

[email protected]

294 North Winooski Ave.
BURLINGTON, Vermont 05401-3674
- Pre-purchase Counseling
- Rental Housing Counseling
GILMAN HOUSING TRUST
Phone: 802-535-3555
Toll-free: 888-698-8466
Fax: 877-689-5754
E-mail:

[email protected]


Website: www.myvthome.org
48 Elm Street
Lyndonville, Vermont 05851-0259
- Fair Housing Pre-Purchase Education Workshops
- Financial Management/Budget Counseling
- Home Improvement and Rehabilitation Counseling


- Mortgage Delinquency and Default Resolution Counseling


- Non-Delinquency Post Purchase Workshops
- Pre-purchase Counseling
- Pre-purchase Homebuyer Education Workshops
- Predatory Lending Education Workshops
- Reverse Mortgage Counseling
LAMOILLE HOUSING PARTNERSHIP
Phone: 802-888-5714
Fax: 802-888-7304
E-mail:

[email protected]


Website: www.lamoillehousing.org
65 Portland Street
PO Box 637
Morrisville, Vermont 05661
- Pre-purchase Counseling
- Rental Housing Counseling
BENNINGTON-RUTLAND OPPORTUNITY COUNCIL, INC. (BROC)
Phone: 802-775-0878
Fax: 802-775-9949
E-mail:

[email protected]


Website: www.broc.org
60 Center Street
RUTLAND, Vermont 05701-4018
- Financial Management/Budget Counseling


- Mortgage Delinquency and Default Resolution Counseling


- Non-Delinquency Post Purchase Workshops
- Rental Housing Counseling
- Services for Homeless Counseling
GREENPATH DEBT SOLUTIONS
Phone: 888-860-4167
Toll-free: 888-860-4167
E-mail:

[email protected]


Website: www.greenpath.com
41 IDX Drive
Suite 210
SOUTH BURLINGTON, Vermont 05403-7773
- Financial Management/Budget Counseling


- Mortgage Delinquency and Default Resolution Counseling


- Pre-purchase Counseling
- Services for Homeless Counseling
NEIGHBORWORKS OF WESTERN VERMONT
Phone: 802-438-2303
Fax: 802-438-5338
E-mail:

[email protected]


Website: www.nwwvt.org
110 Marble Street
WEST RUTLAND, Vermont 05777-4414
- Financial Management/Budget Counseling
- Home Improvement and Rehabilitation Counseling


- Mortgage Delinquency and Default Resolution Counseling


- Non-Delinquency Post Purchase Workshops
- Pre-purchase Counseling
- Pre-purchase Homebuyer Education Workshops
- Predatory Lending Education Workshops
- Rental Housing Counseling
- Services for Homeless Counseling
OPPORTUNITIES CREDIT UNION
Phone: 802-654-4540
Toll-free: 800-865-8328
Fax: 802-654-4551
E-mail:

[email protected]


Website: www.oppsvt.org/
25 Winooski Falls Way
Winooski, Vermont 05404-2269
- Fair Housing Pre-Purchase Education Workshops
- Financial Management/Budget Counseling


- Mortgage Delinquency and Default Resolution Counseling


- Non-Delinquency Post Purchase Workshops
- Pre-purchase Counseling
- Pre-purchase Homebuyer Education Workshops
- Predatory Lending Education Workshops