Wyoming
Wyoming Foreclosure Process
Security Instrument(s): Both Mortgage and Trust Deed.
Foreclosure Type(s): Judicial (rare) and Non-judicial.
Judicial Foreclosure: A foreclosure process in which the lender must file a lawsuit against the borrower to obtain a court order to foreclose on a Mortgage document.
Non-judicial Foreclosure: A foreclosure process where a third party Trustee has the power to foreclosure and initiate a sale based on a Trust Deed instrument.
Initial Public Notice: Publication.
Estimated Foreclosure Process Period: 60+ days.
First Notice to Sale Time Period: 25+ days.
Redemption Period?: Yes, 3-12 months. (Judicial foreclosures only)
Deficiency Balance?: Yes.
* * * This information represents MRP's current understanding of the Wyoming foreclosure process. For the most detailed and up to date information, your should contact your local county government.* * *
Once you have received a Notice of Default (NOD), Notice of Filed Foreclosure or Notice of Foreclosure Sale/Auction, you need a foreclosure defense attorney or foreclosure litigation attorney to effectively represent your interests. If you have received one of these notices, contact us today regarding appropriate legal options!
Foreclosure Defense Attorneys
Foreclosure defense attorneys can answer complaints, file counter-claims and motions, and represent you at hearings, mediation, and during the entire negotiation process. A foreclosure defense attorney will fight to defend your rights, and achieve the best possible outcome in loan modification, reinstatement, forbearance, principal reduction, and other foreclosure alternatives.
► ► Find A Foreclosure Defense Attorney In Wyoming! ◄ ◄
► ► Complete the Foreclosure Defense Attorney Evaluation! ◄ ◄
Litigation Attorneys
Should You Sue Your Lender?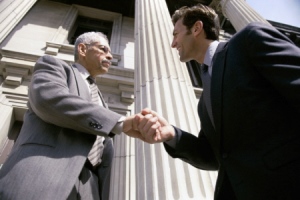 In recent years, legislators have passed new laws which give consumer protection rights to homeowners, and provide statutory damages for violations. Accordingly, many homeowners are now hiring foreclosure litigation attorneys to sue their lenders, and use other aggressive legal tactics to stop the foreclosure process, resolve their mortgages, and obtain corrective and monetary relief.
► ► Schedule A Litigation Attorney Consultation! ◄ ◄
► ► Take The Lender Litigation Test! ◄ ◄
IMPORTANT, PLEASE READ: If you no longer occupy or legally control a property, but seek monetary and corrective damages for wrongful foreclosure and related legal issues, please visit the Wrongful Foreclosure Damages page to learn about available legal services.
HUD Approved ForeclosureAvoidance Counseling AgenciesLocated in Wyoming
Foreclosure prevention counseling services are provided free of charge by nonprofit housing counseling agencies working in partnership with the Federal Government. These agencies are funded, in part, by HUD and NeighborWorks® America. There is no need to pay a private company for these services. Organizations are listed in alphabetical order, by city.
In many cases, these organizations will end up recommending that you retain an attorney. The fact is that an experienced attorney is in the best position to represent you in mortgage negotiations and foreclosure proceedings. In fact, THE FEDERAL TRADE COMMISSION (FTC) PROHIBITS ANY "NON-ATTORNEY" FROM NEGOTIATING MORTGAGE DEBT ON BEHALF OF A DISTRESSED HOMEOWNER. Negotiating yourself or through a non-attorney third party can even be detrimental. Before you do anything else, we recommend a NO COST ATTORNEY CONSULTATION or completing our FORECLOSURE DEFENSE ATTORNEY EVALUATION.
National Foreclosure Mitigation Counseling (NFMC) grantees through NeighborWorks® America, located in Wyoming
Agency Name
Phone
Website
Address
Languages
GreenPath Debt Solutions
Phone: 888-860-4167
Web: www.greenpath.org
1912 Capital Avenue, Suite 320
Cheyenne, Wyoming 82001
– English
HUD Approved Foreclosure Avoidance Counseling Agencies in Wyoming
This list includes only HUD Approved Housing Counseling Agencies offering "Mortgage Delinquency and Default Resolution Counseling" services, and are considered "Foreclosure Avoidance Counseling" agencies. Organizations are listed in alphabetical order, by city.
For the most current list of HUD Approved Foreclosure Avoidance Counseling Agencies in Wyoming, please visit the HUD website.